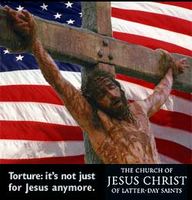 Interesting. Found this
pic on Jesus' General
. I wonder what
The Big Dick
Cheney's
position is on the matter
.
Col Lawrence Wilkerson accused Mr Cheney of ignoring a decision by President Bush on the treatment of prisoners in the war on terror.

Asked by the BBC's Today if Mr Cheney could be accused of war crimes, he said: "It's an interesting question."

"Certainly it is a domestic crime to advocate terror," he added.

"And I would suspect, for whatever it's worth, it's an international crime as well."


...He said that he laid the blame on the issue of prisoner abuse and post-war planning for Iraq "pretty fairly and squarely" at Mr Cheney's feet.

"I look at the relationship between Mr Cheney and Mr Rumsfeld as being one that produced these two failures in particular, and I see that the president is not holding either of them accountable... so I have to lay some blame at his feet too," he went on.